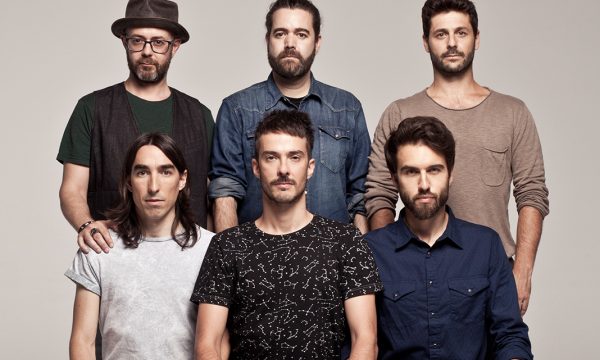 The Vetusta Morla returns to Portugal to present, on the 13th of July on Stage NOS, the latest album "Mismo Sitio, Distinto Lugar". Nominated for three Latin Grammy Awards – Best Alternative Music Album, Best Song "Consejos de Sabios" and Best Design – the fourth album of the Vetusta Morla is Gold Disc in Spain and a thunderous and incomparable live success.
Coming from Tres Cantos, to the north of Madrid, the Vetusta Morla-Pucho (voice), David "El Indio" (drums), Álvaro B. Baglietto (bass), Jorge González (percussion), Guillermo Galván (guitar and keyboards) and Juanma Latorre (guitar and keyboards)-joined at the end of Years 90, but only edited the first album in 2008. "Un Día En El Mundo" – which came out in author's edition – was Platinum Disc for sales exceeding 40.000 copies, conquering not only the public, but also the specialized criticism.
In 2011 They released "Maps", work that came to confirm the talent of the sextet. The Golden Disc, earned them the Rolling Stone Award for the best tour in 2012, the year they gave more than 100 concerts. In 2014 it came out "La Drift" which entered directly into the first place of the most sold discs and counted with exhausted lotions in live performances in Spain but also in Mexico, Argentina and Colombia.
Winners of seven Independent Music Awards in 2015 – Best artist, album, Song "Fuego", best live, best production, photography and design –, the Vetusta Morla, were further distinguished with two prizes by Rolling Stone Magazine-"Best Disco of the Year "and" Millennium Group ", a commemorative award for the 15th anniversary of the magazine.
In 2016, they accumulated three more distinctions in the MIN Awards of Independent Music: Best Artist, Best Live Band and Best Videoclip ("Cuarteles de Invierno").
At the end of 2018 came the fourth album of Originals, "Mismo Sitio, Distinto Lugar. . In Addition to Portugal and Spain-where the concert was held on June 23rd at Caja Magica, considered the Best Concert of 2018 in the National Waves of Music Award-, the Vetusta Morla passed through Latin America (Argentina, Chile, Colombia, Mexico, Peru and Uruguay), returning to a tour in Europe (Switzerland, Austria, Holland, Brussels and Germany). The year of the Vetusta Morla ends with another exhausted room, in Madrid, in the WiZink Center, on December 30th, where the band will celebrate the 10th anniversary of the debut album "Un Dia en El Mundo" and the 20th anniversary of the first concert.