NOS Alive returns to Passeio Marítimo de Algés on July 6, 7 and 8 to celebrate the 15th edition of the Festival.
Since 2007 NOS Alive has established itself as one of the best festivals on the European circuit, having been considered the most reputable music event of 2022 and with great prominence in various national media (Observer, Blitz, Public, etc.) and international (The Telegraph, The Independent, Time Out Dubai, Gigwise, Clash). It has hosted memorable concerts by bands such as Pearl Jam, Coldplay, Imagine Dragons, Grace Jones, Metallica, The Weeknd, Stromae, Jorja Smith, Rage Against The Machine, Radiohead, Florence + the Machine, Green Day, Neil Young or Bob Dylan.
Tickets are already on sale at the usual places and here. The FNAC NOS Alive'23 Fan Pack, an exclusive pack made just for the festival fans, is also on sale at FNAC stores and at fnac.pt. This Fan Pack includes an official 15th edition T-shirt, exclusive entrance through the FNAC door, and the possibility to be one of the five lucky ones to find the Golden Ticket that guarantees a unique backstage experience.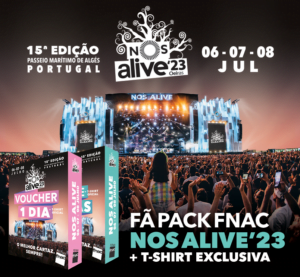 This year the public will be able to buy their ticket in installments through the SeeTickets website. More information at seetickets.com.
In July 2022, NOS Alive received 210,000 people at Passeio Marítimo de Algés during the four days of the Festival, who watched 165 artist performances divided among the seven stages of the festival: NOS Stage, Heineken Stage, WTF Clubbing Stage, EDP Fado Cafe Stage, Comedia Stage, Coreto Stage, and Portico Stage. The 14th edition received 98 nationalities and 20 thousand foreigners, who took the opportunity to come to NOS Alive to get to know the country for the first time or to revisit it.
If the 14th edition of NOS Alive was marked as the Best Return Ever, having sold out once again, in 2023 the festival reinforces the signature of The Best Lineup. Always! in this, its 15th edition.
---