Queens of the Stone Age have announced their eighth studio album, In Times New Roman…, ou June 16th on Matador Records. The American band takes the stage at the NOS Stage of the 15th edition of NOS Alive on July 8, tickets for which are available here.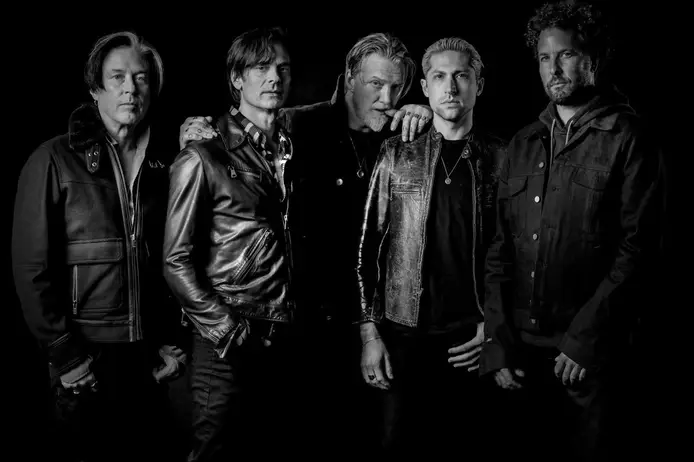 In Times New Roman… is raw, sometimes brutal, and not recommended for the faint of heart. However, it is perhaps the "most beautiful and arguably the most rewarding album of their epic discography," the release reads. Joshua Homme's most acidic lyrics to date are amplified by QOTSA's own unmistakable identity. "With In Times New Roman…, we realize that sometimes you have to look beyond the scars and wounds to find beauty, and sometimes the scars and wounds are themselves the beauty."
This album is the result of when a band creates music that its own members want to hear, when they are struggling to find music that they can identify with. This happens at the same time as they offer a sound space where they can gather your fans. "The world's gonna end in a month or two," Homme sings, prompting us to ask: what do you want to do with the time you have left? Maybe Homme, Troy Van Leeuwen, Dean Fertita, Michael Shuman and Jon Theodore may not be able to save us, but they are providing a place where we can face everything that is going on.
The album's first track, "Emotion Sickness," envelops listeners in a cozy blanket of QOTSA's patented hypnotic choruses and unsettling rhythms – punctuated by touches of psychic turbulence. The last few years have been tough on everyone, and it's no secret that the members of QOTSA have also faced some heartbreak and losses. Listen to it here.
Get to know the cover of In Times New Roman... and the alignment.
01. Obscenery
02. Paper Machete
03. Negative Space
04. Time & Place
05. Made to Parade
06. Carnavoyeur
07. What the Peephole Say
08. Sicily
09. Emotion Sickness
10. Straight Jacket Fitting
---